Products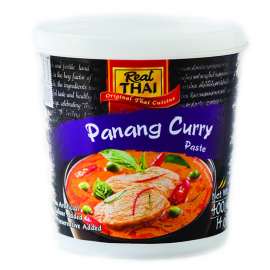 Real Thai
Panang Curry Paste 400gr
Best Before:03.08.2020 / Panang curry paste is a blend of Thai lemongrass, galangal, kaffir lime and chilli. Panang curry paste brings a distinct, fragrant flavour and mild heat to curries and stir fries. Mix this panang curry paste with coconut cream and add to stir-fried beef for panang beef, also known as phanaeng and penang curry.
The product is out of stock.
Real Thai
Thaitan Foods International Co. Ltd. specialized in manufacturing and distributing Thai traditional food products under the brand "Real Thai." It is most active and innovative manufacture and exporter of company of Thailand. They mainly manufacture and export ready to serve food. Thai food is preparing by using varieties of healthy spices and ingredients. This company wants to become a leader in food manufacturing and exporting business. Some ready to serve products are Thai seasoning sauces, Thai ready to cook meal sets, Thai paste, Thai ready to eat meal sets, and so on. According to long-term commitment and contribution, its aim is to market their veritable Thai food products worldwide. With its quality and convenience, they are very confident with the globally positive response, and they are able to strongly establish an excellent reputation and high standard of the "Real Thai" brand name.
Recipes using this product ()