Products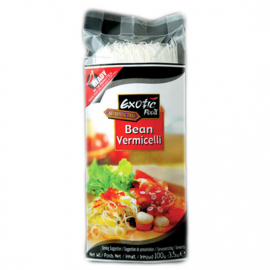 Exotic Food
Bean Vermicelli (Glass Noodle) 100gr
Glass noodles also called Cellophane noodles, are a type of transparent noodle made from starch and water. The glass is a reference to the fact that the noodles turn transparent when cooked. These noodles are very thin and cook quickly. Glass noodles appear in the fillings for dumplings, spring rolls, and other stuffed dishes, and they are also used in stir fries, soups, and salads. Anywhere that a starch like rice or wheat pasta would be used, these noodles can be used.
The product is out of stock.
Exotic Food
Exotic Food began as a vision of two siblings, both passionate about Thai food, who dreamed of seeing their beloved cuisine cooked and enjoyed in restaurants and homes around the world. Founded in 1999, Exotic Food began by selling a few dozen core items. Today, the brand encompasses more than 200 Thai food and beverage products, available at stores around the world in more than 62 countries and counting. Made from only the freshest and best quality ingredients produced by local farmers, their products capture the many delicious dimensions of Thailand. Presented in sleek and modern packaging, Exotic Food products are ready to be turned into magical culinary moments within minutes. Their research and development team continues to innovate, searching for new and delicious products that suit the tastes of their worldwide customers, while always maintaining the highest level of safety and quality standards.
---
Alternatives for this Product
---
Recipes using this product ()