Products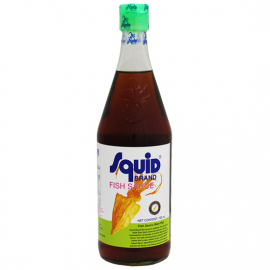 Squid
Fish Sauce 725ml
Best Before: 20.03.2022 / Prime Minister's Export Award 2001. No MSG or preservatives. No colors added. Halal - The Islamic Committee Office of Thailand. Fish sauce (nam pla) Squid Brand fish sauce is authentic Thai fish sauce, made from fresh anchovies and salt, naturally fermented for 18 months to achieve high quality fish sauce, rich with natural protein, giving it a fragrant aroma and a clear, reddish brown color. With its robust flavor, Squid Brand fish sauce is ideal not only for stir-frying, marinating, but also for dipping. Halal Certificated (The Islamic Committee Office of Thailand).
The product is out of stock.
Squid
Thai Fishsauce Factory (Squid brand) Co.,Ltd was established in 1944 by Mr. Tien Chan with an intention to develop high quality fish sauce for Thai community. For over 60 years, Thai Fishsauce Factory has been continuously refining and improving its fish sauce products, monitoring closely on research and development in order to meet with world class standards from the raw material acquisition, production process to the final products.
---
Alternatives for this Product
---
Recipes using this product ()