Products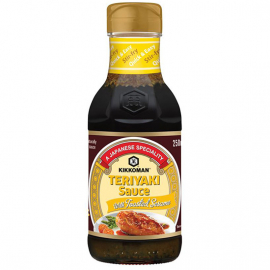 Kikkoman
Teriyaki Sauce With Toasted Sesame 250ml
Best Before: 04.01.2020 / A new addition to Teriyaki range, this delicious Teriyaki Sauce with Toasted Sesame adds a subtle but natural nutty flavour to meat, poultry, fish and vegetable dishes. The basis of this sauce is our classic Naturally Brewed Soy Sauce; which only has four constituents soybeans, wheat, salt and water - supplemented with toasted sesame seeds and other select ingredients. Ideal when you're making quick meals; simply add a dash of the sauce to food in the pan and continue cooking for ten to fifteen minutes to create exciting flare with a distinctive flavour. Soy Sauce (Water, Soybeans, Wheat, Salt), Water, Sugar, Sesame seeds (1.6%), Modified starch, Spirit vinegar, Garlic powder, Black pepper, Salt, Capsicum extract.
The product is out of stock.
Kikkoman
The history of Kikkoman stretches back over 300 years. Production has progressed from hand-made to fully-automated but the high quality of naturally brewed soy sauce. Kikkoman is one of only a few genuine soy sauce brands. It is known and appreciated by people all over the world for its quality. For centuries now, naturally brewed soy sauce has been used to season Asian cuisine, predominantly in Japan. Kikkoman naturally brewed soy sauce today enhances the flavour of foods in many different countries - from the Mediterranean to Scandinavia and Asia to America. It is no coincidence that Kikkoman is the world soy sauce market leader.
---
Alternatives for this Product
---
Recipes using this product ()