Products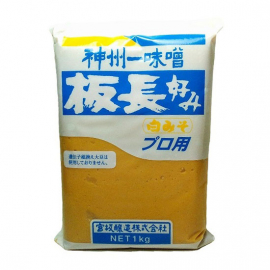 Miyasaka
Miso Shiro (White) 1kg
(ITACHOGONOMI) White miso has a light color of yellow or brown, and the flavor is not too strong. It is widely used by Japanese restaurants, and also it is being used as a marinated sauce for fish, meat, and tofu. Contains alcohol.
108.50 TL
(including vat)
The product is out of stock.
Miyasaka
Miyasaka Jozo Co., Ltd. was founded in 1662. It all began with Ihei Arimasa Miyasaka, the twelfth head of the Miyasaka family, who started a brewery at city of Kamisuwa, Nagano, Japan. In 1916, the company put its experience of making Masumi to the production of miso. The result was a product known everywhere today as Shinshu-ichi Miso, featuring the Miko-chan trademark.
---
Alternatives for this Product
---
Recipes using this product ()