Products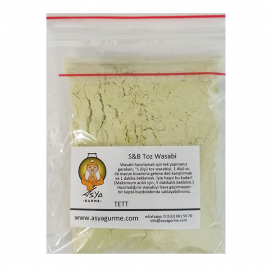 S&B
Wasabi Powder 100gr
Best Before: 10.03.2021 / Measure out a desired amount of wasabi powder. Slowly add cold water and mix well. (Suggestive ratio: 1 cup wasabi powder, 1 cup water). Cover or wrap the wasabi contaşner, place the container upside down and wait for about 5 minutes for a maximum hotness. For best result, serve wasabi within 3 hours after prepared, because wasabi is volatile. Keep the prepared wasabi in an airtight container to maintain its hotness.
The product is out of stock.
S&B
Since founding in 1923, S&B Foods has been producing and selling a dazzling variety of spices, condiments and cooking ingredients, including curry sauce mix, pasta sauce and Chinese food products. Besides being the first company to successfully manufacture curry powder in Japan, we were also among the first to introduce spices and herbs from foreign shores, adding a savory new dimension to Japan's unique culinary lifestyle. Now, more than ever, S&B want the world to taste our success by offering flavory products such as wasabi, curry mix, nanami chili pepper and yuzu. S&B continue to expand many business activities on the world stage.
---
Alternatives for this Product
---