Products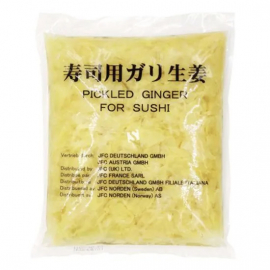 JFC
Sushi Ginger 1kg
Best Before: 17.03.2022 / Gari is a type of tsukemono (pickled vegetables). It is sweet, thinly sliced young ginger that has been marinated in a solution of sugar and vinegar. Young ginger is generally preferred for gari because of its tender flesh and natural sweetness. Gari is often served and eaten after sushi, and is sometimes called sushi ginger. It is considered to be essential in the presentation of sushi. It is used to cleanse the palate between eating different pieces of sushi. Or alternatively before or after the meal.
The product is out of stock.
JFC
JFC International is dating back to the early 1900's. Today's modern JFC company was formally established in 1958. Ever since, the corporation has broadened and enhanced its 15,000-item product line by penetrating new geographic and consumer markets in fulfilling its commitment of leading the way to tomorrow. JFC is signature premium brand with global distribution and products that range from basic ingredients to cooked foods. Authentic, high-quality ingredients are grown, processed, and manufactured at prime locations throughout the world for the JFC brand.
---
Alternatives for this Product
---