Products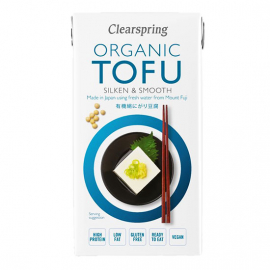 Clearspring
Tofu Organic 300gr
Best Before: 09.07.2020 / This unique organic, protein rich and low fat product has the potential to change the way we view Tofu. Clearspring Organic long life Tofu is made with just three ingredients: organic whole soya beans, spring water from Mount Fuji and Nigari- a naturally occurring mineral rich coagulant derived from sea water. Denser and richer than other soft tofu it has a silky soft, smooth texture whilst maintaining firmness. It is very easy to use and tastes as good as fresh tofu.
The product is out of stock.
Clearspring
Clearspring looks for products that are GMO free and made with whole organic ingredients. Clearspring foods must also be made by traditional methods using time-tested recipes. Indeed, some of the foods Clearspring labels are made using methods and recipes dating back 200 to 500 years or more. In addition to its large selection of traditional Japanese foods, Clearspring is currently expanding its line of traditional European foods.
Recipes using this product ()