Products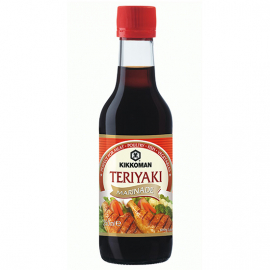 Kikkoman
Teriyaki Marinade Sauce 250ml
If you enjoy grilled, fried or braised meat or vegetables in a savoury marinade, Teriyaki sauce is perfect for you. Although it's probably most popular as a barbecue marinade, it's also a great way to jazz up fried foods. Simply open the lid, marinate your barbecue offerings for 30 minutes (or up to two days if you like) and you're ready to cook. The longer you marinate the food, the more intensive the flavour is and the more tender the results are. So put them on the barbecue and enjoy! To achieve an especially intensive and crispy result you can brush the savoury marinade on the foods as they cook. Ingredients Soy sauce (Water, Soybeans, Wheat, Salt), Wine (contains sulphur dioxide), Sugar, Water, Spirit vinegar, Salt, Spice extracts, Onion powder, Garlic powder.
The product is out of stock.
Kikkoman
The history of Kikkoman stretches back over 300 years. Production has progressed from hand-made to fully-automated but the high quality of naturally brewed soy sauce. Kikkoman is one of only a few genuine soy sauce brands. It is known and appreciated by people all over the world for its quality. For centuries now, naturally brewed soy sauce has been used to season Asian cuisine, predominantly in Japan. Kikkoman naturally brewed soy sauce today enhances the flavour of foods in many different countries - from the Mediterranean to Scandinavia and Asia to America. It is no coincidence that Kikkoman is the world soy sauce market leader.
---
Alternatives for this Product
---
Recipes using this product ()