About Us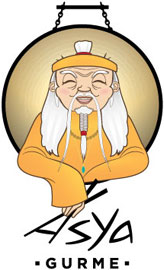 Whoever we are, whereever we live there is a common denominator that ties us… And that is, we have to be fed. We have to eat each and every day. For some of us 'eating' is far beyond than being imperative. It's simply a passion. Those who chase for the ultimate taste, or the enthusiasts seeking culinary secrets are increasing in number swiftly. Add 'healthy nutrition' on top of the element of taste. Enjoying healthy and delicious meals prepared with right ingredients is becoming a life style. A life style pretty much unavoidable requires a formula. What lies beneath the fact that 'Far East Cuisine' becomes more and more trendy in Turkey is that same formula.
Asian flavours are already in professional kitchens. Whoever catches a craving for a bite of let's say 'Pekin Duck', can go to their favourite Chinese restaurant and enjoy a good meal. What about homes? How can we please those who love to cook their own meal in a home's comfort?
Nowadays, it's easier to reach an authentic recipe. But to obtain the necessary ingredients, on the other hand is another issue. asyagurme.com provides you all approved recipes and the 'must' ingredients to those recipes with just one click without the trouble of store hunting. From this moment on no more outdoors. Now you are free to elaborate the extremely palatable tastes in your homes by yourselves, and enjoy sharing with the loved ones.
- All approved recipes
- Quality and budget products
- Safe shoppping
- App. 2 Working Day
The list of suchlike advantages, is the reason why you should add asyagurme.com* to your 'favourites menu'.
*asyagurme.com, is the first and only website in Turkey, providing online trading for far east culinary products with the reference of unique recipes since 2015.